4540 Kearny Villa Road, #215, San Diego, CA., 92123
Office: (858) 569-9190
Fax: (858) 569-9184
License# 2E25165
Policyadjusters.com


"The road to insurance recovery is littered with insurance
speed bumps, we know the road"
Insurance Claims Processing

Member of: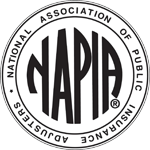 Personal Property Inventory
Commercial Property Inventory
Temporary Housing

Additional Living Expenses

Co-insurance
Fair Rental Value
Actual Cash Value
Contents Restoration
Business Interruption
Mortgage Payments
Salvage Companies
Relocation Expenses
Replacement Cost
Reconstruction Estimates
When you incur a loss, you need a company who works for you. Policy Holders Adjusting Services understands your needs and has the experience and expertise required to best represent your interest. If you are insured by Allstate, Farmers, State Farm, Liberty Mutual, AIS Insurance, Progressive Insurance, etc we are here to assist you, The Homeowner.